India is also known as the bowl of spices. It has an ancient history of producing spices and the country is also the largest spices exporter. Demand for Indian spices in foreign countries is great because of their superior quality and flavor. Indian spices are the most exported agri-commodities in the world because of the exquisite aroma, texture, taste, and medicinal value that they bring to the table.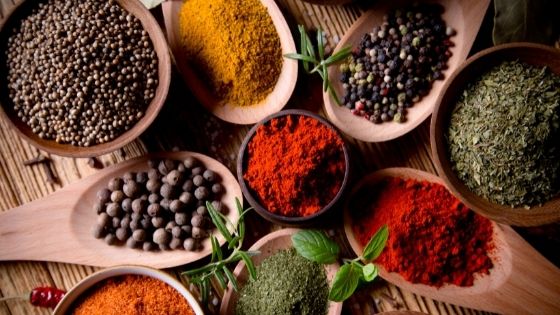 In India, spices are grown in small land holdings traditionally. The country is the world's largest producer and consumer of spices; it produces about 75 out of 109 spice varieties listed by the ISO (International Organization for Standardization) and accounts for half of the world's trading in spices.
Spices in demand
Pepper, chili, turmeric, ginger, cardamom, coriander, cumin, fennel, garlic, tamarind, etc and processed spices such as mint powder, curry powder, seasonings, oils, and oleoresins, etc. are some of the most exported spices from India. Other related products such as papad, pickles, and organic spices also have a great demand.
The US, China, Vietnam, Thailand, Bangladesh, UAE, UK, Malaysia, Sri Lanka, Indonesia, and Germany are some of the major markets for Indian spices.
Organic spices in India
Organic farming has gained importance in India in recent times. There are a lot of consumers showing interest in organic products like organic fruits, vegetables, and even spices too. This is the big reason why farmers have shifted to organic farming because it is environmentally friendly and also has demand in the foreign market.
Organic spices are in demand mostly in developed countries such as the USA, Australia, and Japan, etc. A large number of people in India have started promoting organic spices in India but organic farming is under development. In the international market, there is a lot of demand and opportunities.
Spices export from India
Spices export from India increased during the Covid-19 period as the country crossed the 7 lakh tonne mark between April and September 2020. According to a statement issued by the Spices Board of India, exports of spices increased by 19 percent during the April-September period or the first half of the current financial year. The top five exported species are Chilli, cumin, turmeric, coriander, and ginger.
Chilli continued to be the largest exported spice from India with 2.64 million tonnes worth about ₹3,605 crores. The second-largest exported spice is cumin with an export value of 1.53 lakh tonnes worth about Rs. ₹2,167 crores, it has registered an increase of 33 percent and 22 percent in perceptible and value terms respectively.
The little cardamom, known as the queen of spices, recorded the greatest increase in quantity and value. The total exports during April-September contributed 483 percent in value and 368 percent in quantity. In the same period, 1,900 million metric tonnes of small cardamom worth ₹ 329.5 crores were exported, up from 405 tonnes worth ₹ 56.52 crores in the same period last year.
Global imports of spices from India
India is one of the largest producers, consumers, and exporters of spices in the world. Despite the Covid-19 in 2020, India's spice exports to the world have increased. During the year 2020, spice exports from India crossed the USD 2,000 million mark. The table below shows the dollar value of India's spice exports for the period 2018-2020.
Year Value USD Million
2018 – 1,816.8
2019 – 1,971.2
2020 – 2,483.9
Top Destinations of Indian Spices
In the last two financial years 2020-21, China has emerged as the number one importer of Indian spices, surpassing the United States. Apart from China, demand for Indian spices is also increasing in Africa, South Asia, and West Asia. According to trade data of India, the top 10 spice export destinations of India accounted for 87.2% of the total shipment value recorded in 2020 which is $4178.81 million.
The topmost importer of Indian spices is China with the value of USD 33.2 Million, Thailand (USD 10.5 Million), the United States(USD 9.6 million), Bangladesh( USD 9 Million), Sri Lanka( USD 7.9 Million), Malaysia(USD 5.4 Million), Indonesia(USD 5.4 Million), United Arab Emirates( USD 3 Million), United Kingdom( USD 1.7 million), and Vietnam(1.5 Million).
According to the Spice Board of India, Exports of spices and condiments are estimated at 15,65,000 tonnes in 2020-21, up from 12,08,400 tonnes in the previous fiscal year 2020.
Total pepper exports in 2020-21 were 6,01,500 million metric tonnes, up 21%. Last year it was 2,64,500 tonnes. Apart from chilies, other spices that have been a major source of export are spices like turmeric, cardamom, ginger and cumin, and fenugreek. The Spice Board of India is connecting with Indian embassies in foreign countries to promote Indian spice brands in overseas markets.
Indian Spices Export Data and Key Markets

● In the fiscal year 2020, spices worth US$ 3.62 billion were exported.
● Top importers of Indian spices in the financial year 2021 were the US, UAE, UK, Hong Kong, Australia, and Canada.
● The combined spice export from India was valued at US$ 1.68 billion from April 2021 to August 2021 and the August export value was US$ 312.57 million.
● The combined spice export in the marketing year 2021 was US$ 4.0 billion and in March 2021, the value was US$ 448.77 million.
● During the marketing year 2019, chili export from India stood at 468,500 million metric tonnes, cumin export at 180,300 million metric tonnes, turmeric export at 133,600 million metric tonnes, and large cardamom export at 860 tonnes.
● In the financial year 2020, ginger export showed the highest growth of 47% with 19,410 million metric tonnes, followed by cardamom with 31% at 1,060 million metric tonnes and cumin with 14% at 7,350 million metric tonnes.
Export spices from India in 2022
Technology has improved and moved ahead with time. Tradologie.com is one of the best parts of that improved technology. People also search online spices and their search ends on Tradologie.com. The platform is the world's first next-generation B2B platform for food and agri-commodities. It has 500K+ verified global buyers and 45K+ verified global sellers, you can import & export spices easily without even making calls or emails. Bringing sellers directly into contact with large buyers from around the world. Tradologie.com aimed at digitizing existing import-export trade and large-scale domestic trade.