South Korean is the travel destination of every Hallyu fan. Along with its K-Pop culture, South Korea is home to some unique sights and landmarks. This Asian country is listed among the 25 most visited countries in the world. You can see a good diversity in the geography as you can see the huge mountains to the silent sea. Here we have mentioned top travel destinations of South Korea.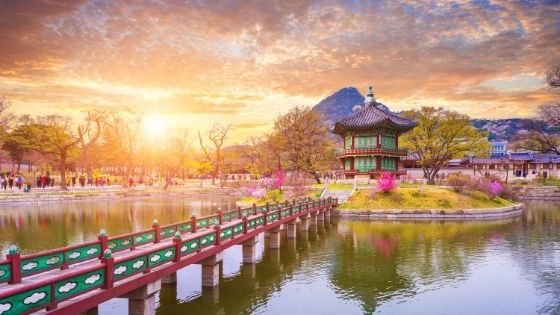 Seoul
Seoul is the capital city of South Korea. Seoul is home to pop culture. You can see beautiful parks, large buildings, art galleries, and various other modern places. But Seoul is not only about chic life but also a place to historical landmarks. You can visit the National Museum and War Memorial. Some of the best key attractions in Seoul are Gyeongbokgung Palace, Changdeogung Palace, Bukchon Hanok village, Lotte World, Bukhansan National Park, and Namsan Seoul Tower.
The Korean Demilitarized Zone (DMZ)
Well, who doesn't know about North Korea? If you want to peek into North Korea then you must visit DMZ. Korean Demilitarized Zone is one of the most famous places in South Korea. It is a barrier between South Korea and North Korea. The DMZ is 250 kilometers long and 4 kilometers wide. Korean Demilitarized is one of the most heavily fortified borders due to tension between North Korea and South Korea. DMZ is about 50 km away from Seoul. You can visit the DMZ and take some rare glimpses of North Korea.
Jeju Island
Jeju island is one of the most famous honeymoon destinations. The beautiful white sand beaches will surely make your day. The lust green pine forests, beautiful botanical gardens, volcanic craters, and lava caves make this place a natural paradise for tourists. Some top attractions of Jeju island are Halassang National Park, Seongsan Sunrise Peak, Hyeopjae & Hamdeok beach, and Cheonjiyeon Waterfalls.
Busan
Busan is the home to one of the largest ports in the world and largest in South Korea. If we talk about the location then Busan is the best place to visit in South Korea. The south-east coast looks damn attractive at night. The sparkling sea takes away all the tiredness of your day. You can do various activities like trekking to the green mountains. Watch the beautiful sunset at the beaches and relax in the hot springs. Don't forget to visit the Busan Gamcheon Cultural Village also known as Santorini of South Korea. Busan is like a modern place with the correct pinch of tradition. The key attractions of Busan are Gamcheon Culture Village, Haeundae Beach, Haedong Yonggung temple, and Jagalchi fish market.
Suwon
Suwon is the capital of Gyeonggi province and one of the largest cities in South Korea. Suwon is known for the Hwaseong Fortress which is a UNESCO World Heritage Site. This fort was built by King Jeongyo of the Joseon dynasty. You can visit the Korean Folk village to learn more about Korean culture. The folk village shows the traditional Korean houses and furnishings. If you are a soccer fan then don't forget to visit the World Cup Stadium known as Big Bird, which hosted the 2002 FIFA World Cup quarter-finals.
Gyeongju
Gyeongju is the ancient capital of the Silla Kingdom. This city has various historical sites. You can visit several UNESCO World Heritage sites in Gyeongju. Bulguksa Temple is a 1000-years old Buddhist temple and one of the famous attractions of Gyeongju.
Seoraksan National Park
If you love hiking or you want to take some attractive pictures then you must visit Seoraksan National Park. Seoraksan has a diverse flora and fauna, beautiful mountains, crystal clear streams, and attractive lakes.
If you have time to explore more places along with these key attractions then you can visit Andong, Jeonju, and Chuncheon.