Selecting the right cycle for men is not as simple as deciding between an alloy wheel bicycle and a normal one. Here is a list of the different kinds of bicycles that are available in India: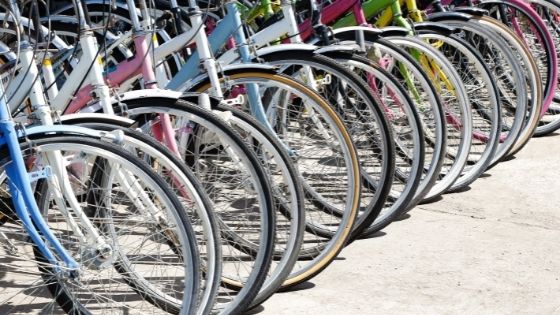 City Bicycles
You can opt for this bicycle if you intend to use your cycle for regular riding within the city. These city bicycles come equipped with a standard geometry frame embedded with a raised handlebar to offer the riders an upright riding posture to ride comfortably. This type of cycle for men generally has a large seat for additional comfort.
Hybrid Bicycles
The hybrid variant is a type of cycle for men which is most suitable for long-distance touring and keeping yourself fit. The hybrid bicycle has the right blend of flat handlebars (mountain bicycle) and 700cc wheels (road bicycle). This particular type of bike provides an efficient riding posture and offers high performance as well.
You can find several variants of the hybrid bike in the market. Some will have narrow tyres and stiff forks for extra efficient tarmac riding, while others will have thick tyres and a suspension fork at the front side to relieve the jerk of the rough road or off-road riding.
Road Bicycles
The road bikes are designed for speed and performance. This type of cycle for men is mainly used on paved roads and is very light in weight. The geometrical structure of this bike accommodates a low bottom bracket, short wheelbase and a steep headtube which allows the user to react quickly. Road bicycles are known for providing a low centre of gravity which is very helpful while taking turns. Another trademark feature of this road bicycle is the extra-thin tyres of 20-25mm width mounted on the 700cc wheels. The road bike lets the rider stay in an aero position because of its drop-bar handlebar.
Mountain Bike (MTB)
If you intend to use the bicycle off-road and within the city, then a mountain bicycle can be an excellent choice for your needs. The mountain bicycles are known for their extra-wide tyres, which offer an upright frame for higher clearance and additional traction. These bicycles are effortless to use on various surfaces, including dirt, sand, rock, and gravel.
The mountain bikes also come equipped with a higher range of gear options that offer a variety of gears to select from while riding on steep or flat terrains. These bicycles for men come in two types: the front suspension (the hardtail) and the front & rear suspension type (dual suspension bicycle).
Fat Bike
You can figure out by the cycle name that it comes with oversized fat tyres. The fat bicycles are mostly preferred for riding on sand, rocky terrains, dirt tracks and snow. The oversized tyres of this variant make it feasible to provide the rider cushioning and extra traction. Carrying heavy loads on these versatile bicycles becomes much easier due to their extra-wide tyres.
BMX Bicycle
If you wish to use your bicycle for performing stunts, then a BMX cycle can be a good companion for your needs. The BMX bikes usually come with a more petite frame and wheels. These types of bicycles won't have different gear options and will have a flat handlebar. Regardless of their small overall size, the BMX bicycles are robust and, while performing stunts, they can easily handle the whole weight of an average person. BMX bikes are well known for their 360° rotational axis, and extension tubes from the front and back sides are moved upwards to perform tricks.
Folding Bikes
If you like to avoid commuting by public transport, then a Folding bicycle can be an excellent option for your needs. The folding bikes are lightweight and can be easily folded like a suitcase to turn into a compact form that can be easily carried around on your back while riding on trains or public buses.
This guide will enable you to understand your needs and pick the correct cycle type as per your requirements. Many of the bikes mentioned above come in alloy wheel bicycles and regular wheel variants. If you are delaying the purchase of your preferred cycle for men due to budget constraints, then you are in luck. Keep reading to discover more.
An efficient way of purchasing your favourite cycle
The Bajaj Finserv, EMI Network Card, is a powerful digital payment card used to place orders for more than a million electronic and non-electronic Products from 1.2 lakh+ vendors across 2,900 cities in India. The EMI network coverage is still growing every passing day. The great aspect of this EMI Network card is that it comes packed with a pre-approved loan limit of up to Rs. 4 Lakh.
You can also rely on your Bajaj Finserv EMI Network Card to place an order on the Bajaj Finserv EMI Store, one of the largest online shopping stations. Shop now on the Bajaj Finserv EMI Store and quickly get your new bicycle delivered to your doorstep.