Being a doctor means you have to be versatile, considering the plethora of tasks you'll be juggling with. The tremendous advancements in the medical field have made it easier for doctors to provide their services without physical limitations. But today, there are many mobile apps for doctors that help them in managing various tasks so that they can focus on their core practice better. In the article, we are highlighting some of the top mobile apps for doctors that can be accessed for free.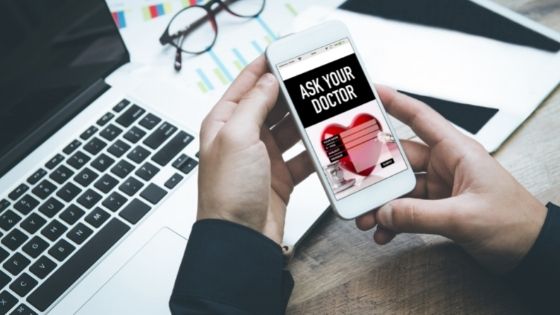 1. Bajaj FinservHealth- Medical App For Doctors
The medical apps for doctors is designed to be a one-stop destination for doctors to seamlessly manage their practice. With this app, medical practitioners can easily book an appointment, create repetitive prescriptions, store patients' records, and manage multi-mode consultations. It is designed for efficiently managing online and in-clinic appointments all in one place.
There is a wide range feature that improves the overall practice. The app offers a virtual receptionist to help with routine calls to deliver services quickly. Moreover, the intelligent auto-suggest medicine tool integrates a massive database to manage repetitive prescriptions.
Features of the app:
Consult patients through call, video, or chat
Track weekly or monthly appointments
View and manage all your appointment in a single dashboard
Intelligent auto-suggest medicine tool for easy prescription
Send reminders to patients about appointment
Get reliable assistance from a virtual receptionist for seamless management.
2. Curofy
It is among the innovative doctors apps online that are available for free. The medical networking app allows doctors to interact and coordinate with one another. They can also collaborate on various clinical cases. Through Curofy, doctors can manage their appointments with patients efficiently. Moreover, the app allows doctors to stay updated with the latest news and advancements of the medical works. The users can get access to medical guidelines, the latest journals, job openings, and so many other valuable information.
Features of the app
Curofy allows doctors to discuss clinical cases with their peers
All the patients' records will be stored and organized carefully on the app.
Medical news will allow you to stay updated with the latest information about the medical world.
Curofy Genie caters to your professional needs in a single place.
Curofy journal allows users to get free access to various journals.
3. Epocrates
It is another useful medical app for doctors that is used worldwide. It is a drug-referencing app that can assist doctors in prescribing relevant medicines to their patients. Epocrates embeds a massive drug database, allowing the users to search for medicines based on the brand name, generic name, specific conditions, etc. Other than that, you can also leverage dosing calculators, interaction records, drug information, etc.
Features of the app
RX and OTC monographs that offer all the relevant information regarding the drug.
Pill identifier, which is organized by imprint code, color, shape, etc.
Over 600 dosing calculator
Drug interaction checker to protect from dangerous interactions.
4. Lybrate
Lybrate for doctors on our list is Lybrate. It is designed for doctors to help practice, improve their credibility and get access to the exclusive Good MD social networking platform. The doctors app in India allows you to build a strong online presence and reach out to patients without physical restrictions. Lybrate integrates a smart practice management software that takes all hassles associated with doctor's practice, leaving you adequate time to spend more time with patients.
Features of the app
Flexibility to select your own time and availability to earn additional income.
Check reports, update prescriptions, send diet plans, and do other routine stuff.
Add patients to the clinic practice management software.
Create an appointment and send reminders automatically.
Send reminders to patients regarding their appointments.
Read Also – 9 Must-Have Features of Mobile Apps For Doctors
5. Daily Rounds
It is among the best apps for doctors that offer tons of useful features. It contains an updated drug database that includes more than 10,000 brands and 2,000 molecules organized by pharmacologists and physicians. The app offers one of the largest networks for surgeons, physicians, and medical students. Furthermore, it allows users to learn and share clinical cases.
Features of the app
Extensive drug database created by physicians and pharmacologists.
A big academic network for surgeons.
Learn from various clinical cases and share them as well.
The biggest point of care references.
There you have it, some of the best mobile apps for doctors that are available for free. These apps are designed to make medical practices easier and more efficient.