It's the 21st century, and the digital revolution is all around us. And thanks to search engines like Google, the internet is often the first option for people looking for answers. Whether they're in search of nice restaurants around them or looking for academic materials – where do they go? Online.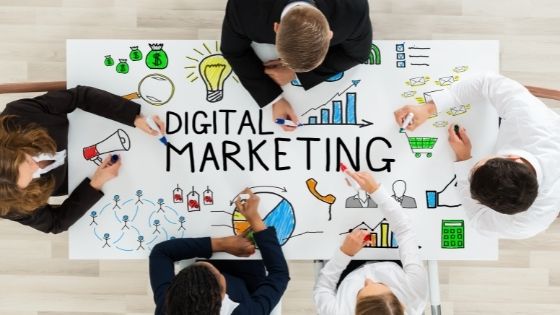 To have a solid stance in any industry – no matter the industry or business model – your business requires a solid digital marketing strategy, and you have a lot to gain from investing in digital marketing – especially if you're religious with it.
In this era, there are multiple ways to invest in your business. However, digital marketing still tops the list as it's an overreaching solution that will influence your business's online and offline growth.
Interestingly, digital marketing can offer your business more than growth, and it's an investment that aims to generate leads and promote online and offline conversions.
The truth of the matter is that there are many positive reasons why you should consider investing in digital marketing. If it weren't beneficial, the big brands wouldn't pay marketing agencies handsomely to handle that aspect of their businesses.
If you've been thinking of starting a business, or perhaps you run one already, and you're wondering how to scale, you should consider digital marketing. And here's why:
The Internet Will Continue to Expand
Recent demography shows that the average person spends over six hours on the internet daily. And the numbers tend to increase as years go by. Over time, the internet has proven to be an excellent medium for spreading information, and it overshadows any other media. This piece of information should open your eyes to why your business needs a digital marketing strategy.
Although traditional marketing techniques generate some reach and visibility, the internet does better. Where else would have been a better place to promote your craft if not where millions of people visit daily.
The increase in internet users also heightens your chances of getting more leads. If you adopt a well-thought digital marketing strategy for your business, I bet you'll be surprised at the results it will yield.
It Presents You a Much More Precise Audience
Many people wonder why traditional marketing media is starting to lose touch and has a limited impact on consumers. The answer is glaring. Business owners using these stale marketing tools can't segment their audience. And that's the most significant edge digital marketing has over traditional marketing media.
Today, you can employ several digital tools to determine your target market and your ideal clients. Knowing your target market will help you focus on specific people and create a digital marketing strategy to produce satisfying results.
These digital tools go as far as considering and analyzing diverse factors like location, demographics, age, interests, occupation, etc., of the audience you are interested in.
Unlimited Reach
For a long time, a significant problem faced in the advert world was distance. For example, suppose you offer a service that almost all Americans require, and you chose the poster advertisement style. In that case, I wonder how you'll get your business poster on every block throughout the country.
Geographic location was one of the significant barriers that affected the sales of small businesses, and it's always challenging to get across to audiences that aren't local or national. But today, the internet has helped bridge the gap between businesses and clients – both local and international.
The internet is available in most parts of the world, so your business will reach a wider audience with effective digital marketing. Little wonder many small businesses prefer this approach over traditional marketing means.
The Increase in Mobile Use
If you didn't know, a significant number of internet users prefer to access the internet via mobile. It's easier to dip your hands in your pocket to reach your phone and do a quick search than having to boot your pc and connect to a Wi-Fi network before using the internet.
Since the advent of the mobile phone, many people's online presence has increased. Mobile has revolutionized how consumers interact with businesses in this age. A consumer can search and purchase your products or services wherever they are – even on a toilet seat.
Digital Marketing is Cost-Effective
There's a reason why many digital marketers believe strongly in content marketing. Why? It works. It's that simple. Traditional marketing techniques can be costly, and the effectiveness is quite challenging to measure – unless there's a technology that records the number of people that interact with posters.
The understanding that many people do not interact with the traditional marketing mediums likes prints and radio is enough reason for you to go digital with your business's marketing. With little capital, you can build a robust digital marketing campaign that will yield a much greater return.
With your content viewed by a larger audience, your business has the potential to grow at a steady and commendable rate. And that's why digital marketing remains atop the list of all marketing strategies.
The ROI of SEO
Search engine optimization is one digital marketing tool that never disappoints. However, many business owners are yet to understand how it works. I'll give you a quick tip. SEO is not a one-time thing. Once you start, you'll want to keep at it. And that's when you'll see the beauty of SEO.
No matter the industry you find yourself in, you wouldn't want to see SEO as unnecessary. Having a website for your business doesn't guarantee that people will see it. And if people don't visit your website, how do you intend to generate leads?
Have it in mind that Google owes you nothing, and if you want search engines to show your website to people, you'll have to put in the work by doing SEO. There are over 1.6 billion websites on the internet today – so you're right if you consider yours a speck of dust in the web universe.
But that speck of dust can be made relevant via SEO. If you wish to be found by prospective customers, you'll want to work towards fulfilling search engine requirements in aspects like user experience, speed, security, quality, authority, and freshness.
Lead Generation
You must have had your dad or a colleague send you a link to a website that contains some helpful information or details regarding a topic of interest. If you find the website worthy, you'll not want to miss new content that hits that webpage. So, you subscribe to the website.
That's precisely the type of game you'll want to play with your website. With gated content, it's easier to get people to subscribe to your website and even share with other people. The more people visit your webpage, the greater your chances of converting them to clients. The most crucial factor is that you have to let people see that you are an authority in your industry and give them a reason to share their private details.
Conclusion
In this present age, digital marketing is something every business should embrace – especially those looking to become an authority in their respective industries. And the exciting part is that you can invest in an effective digital marketing strategy with little to no capital. Without a digital marketing strategy, your business may be missing out on opportunities to generate leads and build a stronger relationship with your current customers.