A meta description, also known as a meta description property or tag, is an HTML element that describes and summarises the contents of your website for both users and search engines. While meta data is no longer as vital as it once was for SEO results, the meta description is still important for on-page SEO.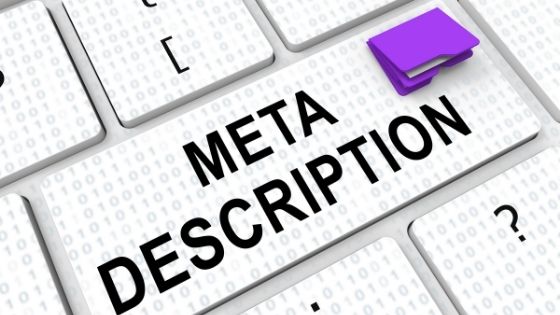 What exactly is a meta description?
A meta description is a meta tag attribute that aids in the description of your page. This bit of text may appear in search engine results under your title, though search engines may select a snippet of text from the page's main body copy instead.
The meta description can be found on any web page by right-clicking it and selecting "view source" or "view page source":
With the exception of experimental times, such as when Google temporarily increased the length to 320 characters, meta description length has traditionally been limited to 155 characters.
Why Are Meta Descriptions Essential?
In the past, meta descriptions were commonly used to stuff keywords. As a result, Google's algorithms were altered. Since then, meta descriptions have had no effect on page rankings. They can, however, influence a website's click-through rate and traffic because the short text serves as an indication of a website's content to readers, who then click on the URL if the material appears to be of interest to them. As a result, SEOs advise including meta descriptions in on-page optimization. When writing meta descriptions, it is critical to ensure that they accurately reflect the content.
Creating a unique meta description for each web page is great practice. Aside from the page title, which affects rankings, the meta description is the first thing a search engine user sees. As a result, a solid meta-description gives you the opportunity to generate a good first impression before searchers ever visit your website.
How should a meta description be written?
Here is a five-step summary of how to write excellent descriptions that will help you raise your CTR from your SERP listings and become an SEO expert.
1. Precision and dependability
The most important consideration for a good description is always accurate. The summary should appropriately summarise the content and provide consumers with a compelling incentive to click on this specific link. Remember that keyword stuffing or employing merely lists of keywords, like the rest of your content, gives little context or useful information for the user. This detracts from the user experience and discourages clicks.
2. Character Limitations
When you write a meta description, you have to make sure to write it between 120 to 150 characters. The reason behind it is to make sure that the whole meta description is easy to read on both mobile devices and desktops. So when you write a description, always put the most crucial information at the start of the description, in this way, your audience reads the important thing first.
3. Consistency and uniqueness
Because meta descriptions are not always visible to visitors, site owners often ignore their significance. Because the DMOZ will no longer play a role in the process, marketers should ensure that every page has a distinct, high-quality description, particularly for pages with no text. You should make sure that it should not be used on several internet pages. Because each page of content provides something unique to the user, the meta description should be as distinct and articulate as what makes the page essential and relevant.
4. Make use of a call to action
Consider the description to be the body copy in a search ad. After describing the page's offerings, provide action phrases.
5. When necessary, robot directives
The NOODP robotics directive will no longer be used because the DMOZ is no longer active. Google, on the other hand, still allows site owners to use the "nosnippet" robots directive to prohibit the search engine from displaying any form of snippet in the SERP. As a result, the outcome would just display the title. The snippets that appear beneath your site links on the SERP are crucial in attracting attention and traffic to your website. They demonstrate your importance to potential readers.
4 Situations in Which You Must Include a Meta Description
Homepage
Because your homepage is most likely your most important page, it demands a great meta description.
Many homepages are navigational in nature, include more visual and design elements, and fewer paragraph text than other pages on the site, which increases the necessity for a meta description. It's like you need a long meta description if the text on your page is not much.
If you operate a website for a well-known business, the homepage meta description provides an opportunity to influence the company's perception directly on the search results page.
Content that is being viewed on Google
If your website has 2,000 old blog entries, but only the top 10% generate substantial search traffic, then concentrate your efforts on those.
Improving the meta description for old content that isn't ranking will have no effect on your visitors or site, despite what your SEO tool tells you! Improve the descriptions for pages with a high number of impressions.
If you need help with this, then you can go for help, you can just type "Digital marketing company in Delhi" and you will be able to get the best content and meta descriptions for your pages.
Pages for Products and Categories
If your website exists to help your company sell, your product and category pages are likely the most important pages on your site for fulfilling late-stage prospect interest.
These are the crucial pages to get right. These are undeniably worthwhile to spend as much time as possible fine-tuning.
Pages discovered through natural search but lacking text content
Many websites that deliver embedded videos, widgets, and apps lack descriptive text that Google can use for the description.
Similarly, Google has nothing to draw from to build an ideal description for resources pages and other pages that are essentially simply a list of links.
A website should contain a good and catchy meta description for search engines to use in such cases. Once again, the golden rule is that the less text on a page, the more vital a meta description becomes.
A Meta description is one way to attract your visitors whether or not click through from a SERP. Create descriptions that inspire and entice the viewers to click and learn what further you have to say about the topic.
If you are finding it difficult to write a meta description for your page, then you can hire a digital marketing company in Delhi, they not only write a good meta description of you but also help you with good quality content.