Did you make a plan to start studying in the UK? If yes, you're going to take a great step in your life through this. This is because UK is one of the most developed countries in the world. A large number of international students show interest in studying there. Now you're also going to join this clan. It wouldn't help if you were nervous of living there. But your mind shares concerns about the people, and environment of UK. Don't worry! I assure you that you're going to receive a warm welcome there. The huge population of UK consists of an international population.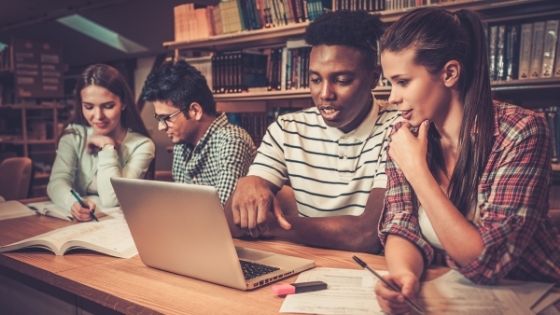 These people live there because the environment of UK welcomes them. I know that my claim is not enough for you. So through this article, I'm going to share some interesting facts about the UK. These facts will help overcome your concerns about living there.
New Friends:
You'll get many opportunities to find new friends while studying in the UK. You'll find people from different areas of the world. They've all learned to live together. They share their cultures, and celebrate them together as well. You will also find many international students in your class. So remember that you're not alone in this new environment. This will make it easier for you to make international friends in the UK. Friendship with different types of people will help increase your exposure. You will learn about different cultures of the world too. Moreover, these friends will help you in various stages of life. You can also explore the whole world with this diverse social circle of yours.
Know The New Culture:
How many cultures have you seen in your country? Your counting is not going to exceed the number of five for sure. But if you're ready for studying in the UK, you should prepare yourself. This is because you'll be seeing a large number of cultures. You may find people from all over the world in the UK. You're going to view different kinds of dresses, and taste different foods. You can also share your culture without any hesitation. People in the UK want to know about new cultures. Apart from this, don't forget to take your traditional dresses there. People of different cultures will show their interest in knowing your culture through this aspect. If it's possible, learn to cook the famous dish of your area before going. You can cook that in one-dish parties with your friends.
Different Languages:
You're also going to learn different languages while studying in the UK. Everyone wants to speak and share their language. Don't think that your friends are going to rely only on English. They'll speak their language and will try to teach you its basics too. You can also share your language with them. This is the reason why students in the UK can speak more than one language. It is a great experience to learn the language of others. It's important because through this you can make a strong bond with people by learning their languages. So be prepared to learn different languages of the world while studying in the UK.
International Employment:
According to a dissertation help firm, the chances of your international employment also increase after studying in the UK. Universities of UK have a great reputation all over the world. So, you don't have to worry about your future career. You can also find a great job opportunity within the UK. If you want to work in any other country, you may get preference over other applicants. It's because you gain a lot of appreciation in the corporate world thanks to a UK degree.
Free To Explore:
You are away from home while studying in the UK. Hence, you're free to explore different places there as well. There are many beautiful places in the world that every student should explore. You might not need many spare days to explore the country. Some tips on exploring different cultures in the UK are as follows.
You can try special African recipes in the evening.
You can try the spicy food of Indians on streets near your house.
You can also go to cultural events with your international friends.
These practices allow you to gain a lot of knowledge about the world. You may also visit many historical places in the UK. In short, you're going to find many chances to explore the world.
Old Institutions:
The UK has many old institutions. These institutions have a great reputation all across the world. For example, Oxford University was established in the year 1096. It is the oldest university in the English world. The University of Cambridge was established in 1209. It is the 4th oldest university in the world. Your worth increases if you study from these institutes. Apart from these, many other institutes of UK also have a great reputation globally. So be ready to study in the world's best universities.
British Weather:
The weather in UK is different from that of other countries. The weather of UK is surprising for many students. You may or may not like it. You may also not make any plan with full surety due to the weather at times. This is because UK's weather can affect your plan at any time. If you like rain, then your likeness of it might change after studying in the UK.
Work While Studying:
Students can manage jobs while studying in the UK. The courses in UK universities are shorter than those in other countries. Many international students can earn while studying with ease. They also manage their expenses by working part-time. If you want to earn money during your study, this country can provide you with said opportunity.
Conclusion:
UK is the destination of many international students. This is because they want to study in the esteemed universities of UK. Many international students have a fear studying away from home. But they should not be scared. Because this is a great experience while studying away from home. You can make many new friends. You can also learn different languages and cultures while studying in the UK. You are free to explore the historic places of UK as well. Your chances of international employment increase by studying there too. Apart from this, the weather of UK is going to change your views about this aspect greatly.